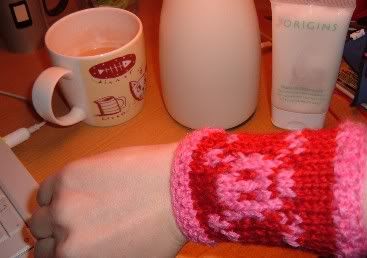 I wanted to make something which used my new intarsia ("picture knitting) powers, and decided it would be pretty easy to make a wristlet (or "Norwegian pulse warmers", as they are apparently known in some circles). I got the pattern for the piratical skull and crossbones from the new
Stitch and Bitch
book, and made up the rest. I made a rather boring black and red one last night, and this slightly more jolly pink and red creation this afternoon when I should have been working. Now, what shall I knit next? I'm thinking a piratical tea-cosy.....
Behold my mad knitting skillz (and a bit of my desk)!
Current Mood:

crafty

Current Music:

X-Ray Spex: Oh Bondage Up Yours!